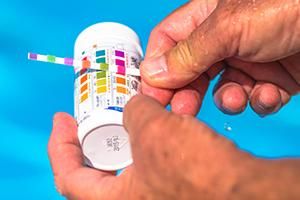 Winter Pool Maintenance
Do you maintain a healthy pool over the cooler months? WA Fibreglass Pools recommend that you maintain your weekly and monthly pool chemistry check even in the cooler months.
At the start of winter, you should follow these steps to kick-start your winter pool maintenance routine:
Clean your pool
Run your filter until the water is clear
Check your pool chemistry - maintain regular checks throughout winter like you would in normal months
Clean and safely store pool toys
Kellie Groves from WA Fibreglass said recently:
'We have seen a spike of customers with very high chlorine and pH readings, some of these have been in the range that will damage both the pool shell and the equipment.

With this in mind, WA Fibrelgass has set up a Pool Service Desk and are happy to offer free computerised water checks and advice to our customers in store (open Mon – Fri at 31 Canham Way Greenwood)."
Don't leave it until it's too late by letting your pool sit idle and without care during the winter months. A bit of maintenance may save an expensive mistake.
If you're not sure, we are here to help - contact us.