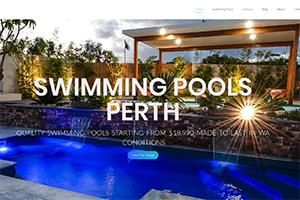 WA Fibreglass Pools – New Website Launch
WA Fibreglass Pools are excited to announce the launch of our new website. In conjunction with local Perth company INCUB8 Web Design, we have created a website that is beautiful as well as functional.
On the site, you can view our entire range of swimming pools in a filterable grid so you can quickly and easily find the pools that suits your requirements. Each 'pool' page features pool dimensions and line drawings, descriptions and a contact button so you can find out more about the pools you are interested in.
Our 'Colours' page also allows you to view our range of colours – allowing you to truly customise your WA Fibreglass swimming pool.
Our new website also features an 'About' page so you can learn more about us, and a 'Contact' page that allows you to view our Display Centre location on Google Maps, or contact us through a simple web form.
Take a look at our stunning new website now and view our range of WA Fibreglass Pools.